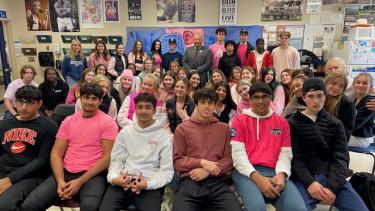 Celebrating Student Leadership
November 24, 2022
I had the pleasure this week of meeting with around fifty of Yale Secondary's Leadership 12 students. They are an amazing and diverse group of go-getters who help to make their school and community better through service. In addition to the work they do, they are also curious about leadership and routinely invite leaders from various parts of the community to talk about their roles and perspectives on leadership. This week I was the invited guest. Among the things they wanted to learn more about were my background, how I became superintendent, as well as the joys and challenges of the job. Of course, they also had more pointed questions about things that directly impacted them, like school start times, snow days, dances, and technology.
My purpose here is not to retell the things I told them about my perspectives on leadership and teamwork.  While these are important to me, and I hope they gleaned something from the class that might help them in the months ahead, I am more interested in the power of student leadership to support positive school culture and improve our communities. The late Sir Ken Robinson, author, professor, and educational transformation advocate, argued that one of the challenges that face our educational system is that we sometimes put the disciplines in a hierarchy, with the sciences at the top and the arts at the bottom. He argued that by relegating disciplines like Leadership closer to the bottom of the hierarchy, we miss the opportunity to see how they truly impact student learning, and in many cases can be truly life changing for young people.
The fact is that many of the lessons in Leadership will endure long after some of the content they learn in the sciences. You need only see some of the amazing things that these students do to help their community to realize the life lessons they are learning. In addition to a myriad of initiatives within their school, below are some key things they have done in the community already this year:
Sourced baskets of essential needs for the homeless
Read stories to elementary school kids
Provided gift baskets to kindergarten kids at Irene Kelleher Totí:ltawtxw
Provided school supplies for students at multiple schools
Assembled care packages for women at SARA For Women Shelter
With their annual Live to Give event these students (under the capable leadership of their teacher Mr. Doug Primrose) have raised over $200K over the last ten years for worthy causes in the community. Few things can be more life changing for youth than leading and taking action over things that matter in the world around them.