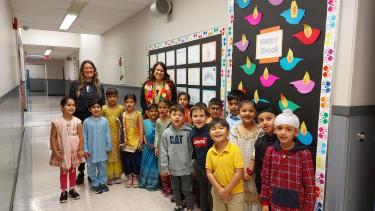 Champions for Children: Clearbrook's Path to Strengthening Personal and Cultural Identity
December 13, 2022
We walk into our schools each day and meet with faces, a multitude of beautiful faces behind which there are stories, personalities, interests, skills, hopes and values. And each day, we are lucky enough to have these children share pieces and layers of themselves in what might seem like surface-level interactions. A welcoming smile can draw someone in and engage them in conversation, and taking some time to listen to a child's story gives insight into their identity and, in turn, gives them the confidence they need to share with others. From the "good mornings" and "how are yous", these regular exchanges are the stepping stones to deeper learning about the individuals we work with daily.
In my Grade 3 class at Clearbrook, the children are so eager to share about their lives each day and so we built into the daily routines opportunities to share about our lives, our feelings, and generally what's going on around us. My teacher partner, Kathleen Manuel, and I have used the First People's Principals of Learning to guide our work with the students and to support the discovery of students' identities and stories. Through the Principals, we have found focus and a guide for each student's journey of self-awareness, building their capacity for pride in themselves and a sense of belonging amongst the group. We have the ability and the responsibility to make the children, the families and the staff members we work with feel valued, loved and as though they belong in our school community.
With so many obligations, it can be challenging to slow down and take the time to connect with people, but these connections are at the heart of everything we do. Building relationships and trust with all stakeholders results in individuals opening up and sharing their identities, thoughts, beliefs and culture with us. And a connection with culture, a large part of our identities, creates a strong and vital sense of pride. When we make an effort to celebrate cultural events, when children can see themselves represented at the school level, we are strengthening that sense of belonging that we hope all students can attain as they learn each day. Seeing the look of pure joy and surprise on the faces of the dancers and MC's at Clearbrook's Diwali Assembly this fall as they walked into the gym - dimly lit, but sparkling with hundreds of twinkle lights, paper luminaries, sarees, flowers and colour - was exactly what we hoped for. Teachers Sonya Neufeld and Rozy Makkar were able to spark that excitement for Diwali, and because of their longstanding connection with and knowledge of the community, were able to draw in parents/family members for the celebration, which is a priority at Clearbrook this year, as we open up post-pandemic.
When we take the time to listen to family members' stories, we learn about family makeup, what is essential to students and their families, and how things are done. We are putting culture at the center and making learning about differences a priority.
In placing importance on sharing personal and cultural identity, we are shaping our school culture/identity. We are ensuring that we create communities that are excited to learn and invested in learning from other cultures and other places, as well as about all facets of each other's identities, including the segments that not all of us are comfortable in addressing yet, such as ability, mental well-being, sexuality and gender.
We must start. We must patiently, kindly, but adamantly move forward to model acceptance, understanding and celebration of our differences. Even if it feels uncomfortable, even if we feel as though we are coming from a place of less understanding than most, even if we are working with those who are not comfortable or able to accept difference at this point.
As staff at Clearbrook, we are beginning to work on equity together. We are looking inward to consider our biases, as well as areas of privilege and vulnerability, and we are taking a thorough look at how we could better reach our families and diverse learners. With a particular emphasis on Indigenous and ELL students, we hope to increase access to various opportunities, improve social-emotional well-being, and increase the students and their family's sense of belonging at Clearbrook. This work is so important to us at Clearbrook, and staff members have expressed relief that we are doing it and anticipate what it could bring. 
As I write, as I teach, as I learn, and as I lead, my personal identity, which remains stable at its core, is continually being moulded by all the many daily interactions I have with the community. From the individuals and their unique and precious identities to the larger cultures that make up our school family and then all the twists and turns in between, I cannot help but be shaped by it all. I am changing, seeing things from another angle, and considering a new perspective. It is thanks to the entire community around me, teaching me with their stories, showing me their ways of being, questioning with curiosity and wonder, and showing up with a will and a desire to change alongside me.
Clearbrook Elementary is an outstanding school community to be a part of. The school culture is positive and strong; it screams SPIRIT, surrounds all its members with love, and makes everyone feel they belong. And yet we want to do more, be more, and learn more; Clearbrook is a learning model for forward movement, and most importantly, we are champions for children.
VICTORIA LORIEAU, VICE-PRINCIPAL
École Clearbrook Elementary